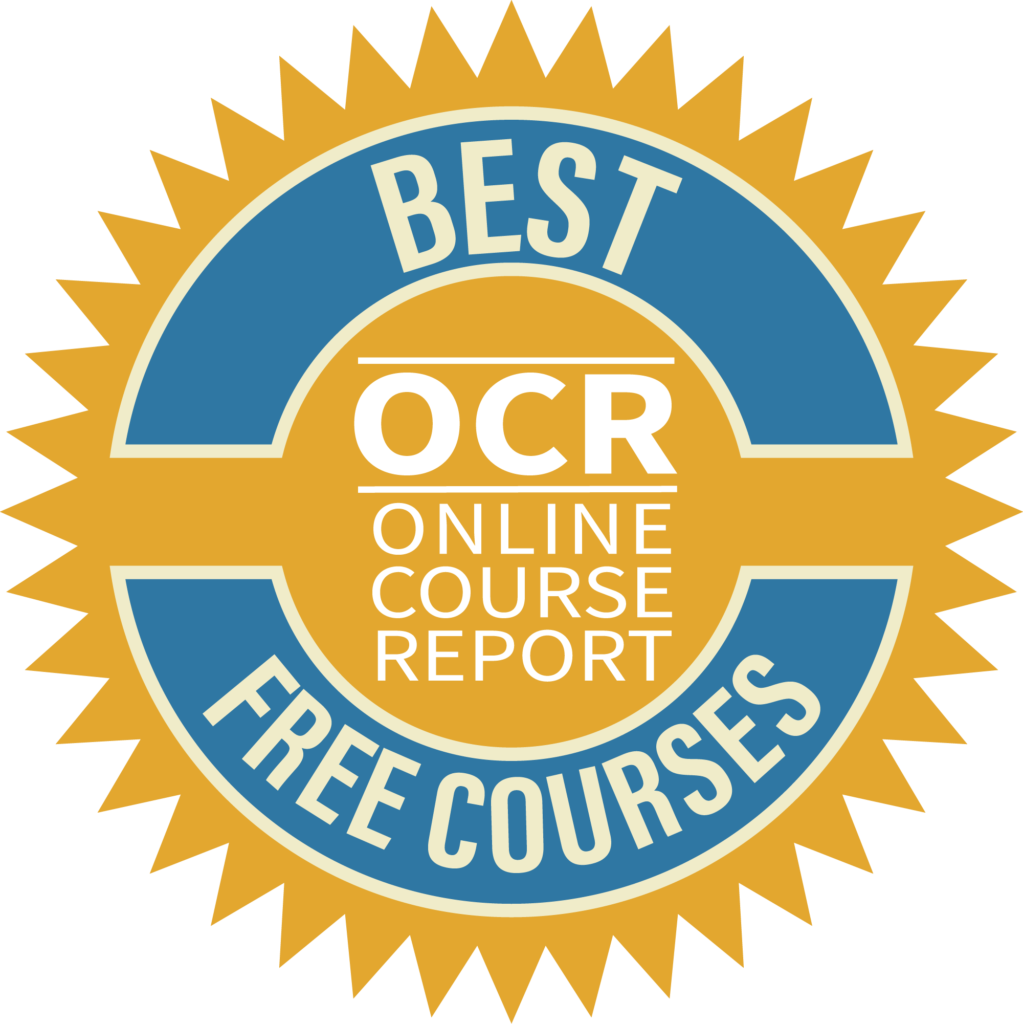 When you think about accounting software for small business, probably one of the first things that comes to mind is QuickBooks. Marketed by Intuit and launched over 25 years ago, the company dominates the small business landscape when it comes to financial management.
With so many businesses utilizing QuickBooks, it's surprising that more people aren't proficient in using this money management tool. It's the ideal platform for tracking income and expenses, running payroll, billing, and much more.
Whether you've been putting it off for a while, or this is your first time trying to navigate the software, there's never been a better time to dive right in and start learning QuickBooks online for free. Resources abound for students who want to master the program, as our list of the ten best online courses for learning QuickBooks will attest.
Each of the courses we've listed has been hand-picked using a methodology developed by our team. Our goal is to provide you with a variety of the most content-rich classes so you can choose one that's right for you. You can start at any time, and there are no restrictions on enrollment. Plus, QuickBooks is not too hard to learn, which means there's no reason not to tackle it without delay.
1. Getting Started in QuickBooks Pro
Offered by Alison

During this short two to three hour course hosted on Alison, students will work through eight helpful modules, including a course assessment. There are 49 topics in all, so you'll get a great idea of the software's ins and outs without investing too much time. Perfect for those who want a general overview as well as students who want a refresher course. Overall, students will learn how to:
• Set up a company file
• Modify the QuickBooks environment
• Work with customers and jobs
• Work with vendors
• Work with items and inventory
• Work with registers
The online QuickBooks course can be taken for free on the Alison platform, where you will earn you a shareable certificate upon successful completion. If you are looking for additional certifications, such as a framed physical certificate, it can be purchased and shipped from the Alison store.
Cost: Free
Certificate: Yes
Time to Complete: Two to three hours
Curriculum: Introductory
User Experience: Excellent
Quality of Instruction: Excellent
Pros:
• Short and sweet
• One of the only MOOC providers that offer both the free course and certificate
• Completed by almost 7500 students
Cons:
• Might be too basic for some learners
2. QuickBooks Pro 2020 Essential Training
Offered by LinkedIn Learning
Did you know that premium members on the LinkedIn site can access an entire course catalog for free? There are thousands of courses listed here, and most of them offer a shareable badge or certificate that can lend credibility to your profile.
If you are looking for the latest and greatest in QuickBooks pro Training, look no further than this four-hour course offered on the platform. Taught by staff author and tech consultant Jess Stratton, it consists of a complete overview of QuickBooks Pro 2020. Students will learn how to:
•Import data from other applications into QuickBooks
•Create a new payroll item
• Describe the purpose of the jobs feature
• Understand the security protocols used for protecting credit cards
• Differentiate the cash from the accrual method in QuickBooks
•Specify a time for running reports
If you are not a premium member of LinkedIn, now might be the time to think about an upgrade. However, if you want to take the course without the membership, LinkedIn offers a free month trial that will give you enough time to complete it. Just be sure to cancel after the time is up to avoid being charged.
Cost: Free
Certificate: Yes
Time to Complete: 4 hours
Curriculum: Introductory
User Experience: Excellent
Quality of Instruction: Excellent
Pros:
• Download a completion certificate when you have finished
• Taught by an engaging instructor
• Sign up and start right away
Cons:
• Need to cancel the membership after the trial to avoid being charged
3. QuickBooks Advanced Bookkeeping Techniques
Offered by Linkedin Learning
This is another top-rated free QuickBooks course presented on the LinkedIn learning platform. Users with a premium membership can take this and other courses for free, and those without a membership can try one on for size with a promotional one-month trial. The trial period is long enough for students to take this bookkeeping course at no charge.
This free online course is designed for those who are already familiar with QuickBooks and want to pick up some advanced skills at just under three hours. There are seven well-organized modules covering everything from tracking details with sub-accounts to refunding customer overpayments. Taught by trainer and best-selling author Bonnie Biafore, it's one of the most useful free QuickBooks courses on our list.
Badges of completion are awarded upon successfully finishing the course. These digital measures of accomplishment can then be displayed on your social media profiles to alert potential clients or employers about your industry skills.
Cost: Free
Certificate: Badge
Time to Complete: Two hours, 50 minutes
Curriculum: Advanced
User Experience: Excellent
Quality of Instruction: Excellent
Pros:
• Excellent user interface
• Seven chapter quizzes
• Access on computer, phone, or tablet
Cons:
•Must cancel before the trial is up to avoid monthly charges
4. Learn QuickBooks Online from Hector Garcia, CPA
Offered by Udemy
With over 10 hours of on-demand video taught by industry expert Hector Garcia at your disposal, anyone can excel at learning Quickbooks on Udemy. Udemy offers thousands of paid classes, but this course is provided at no charge. Plus, if you are looking to get into delivering QuickBooks services as a career path, there is plenty of information within the lessons about becoming a certified QuickBooks Advisor.
There are 13 comprehensive lectures in all starting with Quickbooks in a nutshell followed by a complete 120-minute walkthrough. After that, it's on to the individual lessons. Students will need to do a quick sign-up on Udemy to begin this free QuickBooks course, but other than that, there are no commitments or obligations, and it can be taken at your own pace. 
Cost: Free
Certificate: No
Time to Complete: Varies
Curriculum: Introductory
User Experience: Good
Quality of Instruction: Good
Pros:
• Training directly from an experienced CPA
• Taken by over 11,000 students
• Highly rated
Cons:
• Certification not offered
5. Quickbooks Online Up and Running
Offered by Udemy
If your objective is to set up Quickbooks Online and start using it right away, this course is perfect for you. Its taught by industry expert Bob Steele, and it covers in detail the entire set-up process of the newest version of Quickbooks Online so you can get to the point where you are ready to begin entering transactions and financial data immediately.
It takes a little over 2.5 hours to complete this free 13-lecture online QuickBooks course. Naturally, the lesson's primary focus is on setting up the software and creating a company file. Since QuickBooks Online is best learned by actually using the software, you will spend a large part of the class putting what you are learning to immediate practical use.
Cost: Free
Certificate: No
Time to Complete: 2.5 hours
Curriculum: Introductory
User Experience: Excellent
Quality of Instruction: Excellent
Pros:
• Taught by an experienced CPA
• Go at your own pace through on-demand video lessons
• Very well-reviewed by former students
Cons:
• Certification not offered
6. 39 Free QuickBooks Tutorials: Learn QuickBooks Fast
Offered by Fit Small Business

Created by CPA and expert instructor Tim Yoder, this website features step-by-step tutorials for learning all things QuickBooks. Each lesson is in-depth and features video instruction as well as text and practical examples.
There are 39 tutorials covered over seven modules, with the average tutorial lasting about five minutes. This is an excellent resource for those who want to brush up on specific QuickBooks skills, as each lesson is clearly labeled with a description of what to expect. You can access it with no sign-up from your browser, and you can even take the course on your phone if you choose. The seven modules include:
• Setting up QuickBooks
• Managing Sales and Income
• Managing Bills and Expenses
• Managing Banking transactions
• Managing Business Credit Card Transactions
• Managing Credit Card Sales
• Reporting in QuickBooks Online
Tim has done a great job ensuring that the material is up to date and thorough, making this one of the best QuickBooks courses you can take online for free.
Cost: Free
Certificate: No
Time to Complete: Varies
Curriculum: Introductory to advanced
User Experience: Excellent
Quality of Instruction: Excellent
Pros:
• Straightforward and easy to understand
• Developed by an industry expert
• Completely update for 2020
Cons:
• Certification not offered
7. Free QuickBooks Online Course
Offered by Free Bookkeeping and Accounting.com
While Free Bookkeeping and Accounting.com does not have the prettiest site in online learning, they make up for it with their comprehensive content. Developed to teach basic bookkeeping and accounting skills online for free, this website utilizes video content with an instructor who calls himself the Bookkeeping Master. The channel has nearly 66,000 subscribers, so we thought it was a safe bet that these loyal followers were on to something.
Sure enough, the course offers a remarkably comprehensive overview of the latest version of QuickBooks Online. It features 18 primary modules, three lessons on bank reconciliation, and some bonus resources. The site is run off donations, so if the closure has helped you, consider paying it forward.
Cost: Free
Certificate: No
Time to Complete: Varies
Curriculum: Introductory to intermediate
User Experience: Good
Quality of Instruction: Excellent
Pros:
• Great for students who enjoy video learning
• Access from any browser, including mobile
• Lessons for older versions of QuickBooks online also available
Cons:
• No structure
8. QuickBooks Tutorial
Offered by Quickbooks Explained
This is another independent offering that teaches students how to use QuickBooks at no cost. While the site is pretty dated, it does provide some great learning resources if you want to learn QuickBooks without any fanfare. There are over 50 video tutorials in all, starting with set-up and running all the way through bank reconciliation.
No sign-ups are needed, and students can access the lessons from any browser. The lessons themselves last between five to twenty-five minutes each, and they cover everything in great detail. If you learn best by visual demonstration, this is an excellent choice for you. Other resources for learning more advanced topics are also available.
Cost: Free
Certificate: No
Time to Complete: Varies
Curriculum: Introductory to advanced
User Experience: Good
Quality of Instruction: Excellent
Pros:
• Instructor speaks in a clear voice using plain English
• Work at your own pace
• Applicable to most versions of QuickBooks
Cons:
• No certification offered
9. Quickbooks Learning Center
Offered by Intuit
When you want to learn to use a specific software product, sometimes the best place to find free lessons is on the site itself. For self-starters who don't mind taking charge of their own learning schedule, the Quickbooks Learning Center has just about everything you need to give you a well-rounded education in QuickBooks.
Resources include tutorials, downloadable PDF guides, webinars, and a community forum to connect with other users for guidance. Although there is no structured lesson plan here, it's ideal for beginners and experienced users who just want to hone in on one or more weak areas for further clarification.
Cost: Free
Certificate: No
Time to Complete: Varies
Curriculum: Introductory to advanced
User Experience: Good
Quality of Instruction: Good
Pros:
• No registration needed
• Lots of free resources
• Support community
Cons:
• No structured modules or lessons
10. QuickBooks for Dummies
Offered by Dummies
Everyone is familiar with the famous Dummies informational series of books, but did you know they have tons of resources online that you can access for free? A search on the website reveals several great QuickBooks tutorials and lessons to choose from. Additionally, you can find information on almost any version of QuickBooks available.
For those looking for something particular about the software that they can't find anywhere else, Dummies may offer the vital missing piece of the puzzle. There are no sign-ups for this free online QuickBooks course, and no certification to be earned, although you will probably find yourself exploring many other helpful topics as well.
Cost: Free
Certificate: No
Time to Complete: Varies
Curriculum: Introductory to advanced
User Experience: Good
Quality of Instruction: Good
Pros:
• Especially helpful if you are looking to solve one particular problem
• Covers everything from beginner to advanced levels
• No sign-up necessary
Cons:
• No certificate offered
Frequently Asked Questions About Free QuickBooks Courses
Over the last decade, more students than ever have gained access to continuing education, thanks to online learning platforms offering free or low-cost online courses. MOOCs, also called massive open online courses, are often offered by prominent colleges, organizations, and well-known brands as a way to bolster the number of skilled workers in any given area. With so many options, it's natural to have a few questions about how these platforms work. In this section, we will go over some details about how free online QuickBooks classes work.
Who Should Take Free QuickBooks Courses?
Most often, QuickBooks courses are available to anyone who wants to participate, and students take them for many reasons. Bookkeepers users who are already utilizing the software may want to brush up on their skills. Those who work in an administrative office setting or are trying to acquire a position doing so may wish to learn QuickBooks to add it to their skillset or get a promotion. Small business owners and freelancers have a lot of finances to keep track of, QuickBooks makes it easy to do this. Finally, anyone who wants to learn more about the business end of QuickBooks and online accounting will find QuickBooks tutorials incredibly handy.
What Are the Requirements and Prerequisites?
While there are generally no restrictions to take a free course in QuickBooks, those who choose to do so should have a solid grasp on basic computer skills. You will also want at least one version of Quickbooks installed so you can learn. For those who are brand new, some of the featured classes on our list even walk users through the installation and set-up process.
Will I Earn College Credits by Taking a MOOC?
Most free online courses in QuickBooks do not offer college credits, although the QuickBooks Advanced Bookkeeping Techniques course offered on LinkedIn does count toward continuing education credits. Please read the course description for more details.
How Long Do Free Online Courses Take?
All of the free QuickBooks courses on our list are self-paced, so the time for completion will vary. Some take only a few hours to complete, while others take weeks or months. Depending on the amount of time you devote to a course, you may complete it sooner or later than the average learner.
Are Free Online Courses Graded?
Grading is usually a component of paid programs. Some courses on the list have automatic grading for quizzes, and a few have final evaluations. You should not expect to speak with an instructor or have your work hand-graded unless you opt for the paid portion of a program. Even then, it's not a given. Sometimes, a capstone project for a paid version of a class will be hand-graded.
Are There Specific Start Times and Deadlines for Free Online Classes?
Most of the QuickBooks courses we have listed can be started anytime you like. For some, you don't even need to register. The classes are all self-paced, so you can make your own schedule and study whenever you want. The best part about online learning is this flexibility, which allows students to work around their jobs, home life, and other commitments.
The Course I Want to Take Says It's Free. Why Does It Look Like There Is a Fee Involved?
There are instances where graded components of a class or completion certificates are hidden behind a paywall. You might be offered a free trial or a monthly or yearly membership, for example. There are many MOOCs that offer both free and paid enrollment options. However, all of the courses on our list can be taken for free. Those that offer a paid certificate can be audited at no charge (minus the certificate or badge). Those that offer a trial will need to be completed before the trial period is over to avoid any fees.
If you need a certificate and can't afford to pay, it's worth noting that some platforms offer financial aid, discounts, or scholarships.
Are Free QuickBooks Courses Worth It?
Definitely. Provided you have the motivation, initiative, and time to put the work in, taking some free classes in QuickBooks will pay off for the rest of your career. Those who are adept at using this financial tool can avoid the frustration of asking others for help or the disappointment of being passed up for a promotion. Expanding upon your skills is not only personally enriching, but it also displays motivation to a current or future employer. And if the course you take offers a badge or completion certificate, you can post it on your LinkedIn page or resume to lend some credibility to your profile and give you a leg up over the competition.
Additionally, If you have your own business, gaining a better understanding of how QuickBooks works can assist you in getting a good handle on your books and may help immensely when tax time rolls around.
OCR Staff August 2020
You may also like: