Do you have an interest in buying or selling property? Do you want to understand more about the process involved in being a realtor? Have you been curious about what it would take to invest in real estate? This introduction to real estate can answer these questions in as little as 15 minutes. If your interest is deeper, spend up to 2 hours studying the additional resources.
Section 1: What is Real Estate?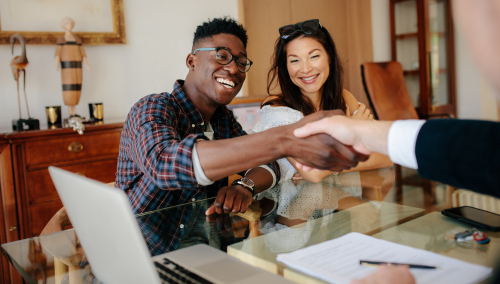 A good real estate definition is as follows: A type of real property with tangible assets. This includes land, buildings on the land, and improvements to the land, such as a roadway or private well.
Additionally, real estate encompasses the right of the owner to enjoy the land and its improvements. The features of the land, such as bodies of water, timber, or minerals are part of real estate. The owner of the land can sometimes choose to retain the rights to these features even if the land is sold to someone else.
So, why real estate?
You might want to invest in real estate because of its potential for an excellent return. It's a much less volatile investment than the stock market. And it has real value. Real estate always has value, unlike stocks which can sink to pennies on the dollar.
Alternatively, you might want to become a real estate agent because of the benefits of that career. Real estate agents report being happy with their jobs and enjoy being able to help people. The potential income for real estate agents is also high.
Of course, owning real estate is also a dream of many people. Having your own property is part of the American dream and the dream of people in nations around the world. Few investments can match the ability of real estate to increase in value over time. If you're looking for ways to use the economy to help improve your wealth, owning real estate is extremely attractive.
What do you think?
Why do you think real estate might be a good decision for you?
Additional Resources for Why Real Estate?
Section 2: Types of Real Estate
As defined in the section above, real estate is a tangible asset. It comes in four forms:
Residential
Commercial
Industrial
Land
The zoning for real estate is controlled by local governments. Below, we've defined each type of real estate.
Residential Real Estate
Residential real estate is the most common type. It includes any type of building that can be used for people to live in. This includes single-family homes. Townhouses and condos are also residential real estate.
Commercial Real Estate
Commercial real estate is defined as property that is used for business. Commercial properties include office buildings, malls, and warehouses. They are built for business functions. They are not for use as a place to live.
There are four types of commercial real estate:
Retail
Office
Industrial
Multi-family (i.e., apartment complexes)
The common feature of these types of commercial properties is that they are used to make income. Though an apartment building and an industrial complex might not have a lot in common, they are both classified as commercial real estate. This is because they are both used in commerce.
Industrial Real Estate
Industrial real estate is a type of commercial real estate. However, some specific features set it apart from other types of commercial real estate.
First, industrial real estate tends to be large in scope. Factories or mines are good examples of industrial real estate.
Second, this type of real estate is often in locations that provide easy access to transportation. Locations near interstate highways or airports are common for industrial real estate.
Lastly, industrial real estate tends to involve large-scale operations like manufacturing or farming.
Land
Land can come in many different forms. Size is an obvious variable, as is the zoning. For example, some land is zoned for residential purposes while other parcels are zoned for commercial.
What do you think?
Which type of real estate is the most interesting to you?
Additional Resources for Types of Real Estate
Section 3: Terms and Definitions
Understanding real estate means understanding key real estate words and definitions. Though it would be virtually impossible to list all the real estate words and definitions, we've outlined some of the most important ones below.
Amortization – The gradual repayment of a mortgage in periodic installments.
Annual Percentage Rate (APR) – The total finance charge expressed as a percentage of the mortgage amount. This includes interest, loan fees, and points.
Appraisal – An evaluation of property to determine its value.
Broker – A person licensed by a state Real Estate Commission to act independently in conducting a Real Estate brokerage business. An individual usually must have at least one year of experience in the industry and pass an examination to earn a broker's license.
Closing – The final step in the sale and transfer of ownership of a property. The title is transferred from the seller to the buyer; the buyer signs the mortgage and pays the costs of settlement.
Closing Costs – Fees and expenses, outside the price of the home, payable by the seller and the buyer at closing (e.g., brokerage commissions, title insurance premiums, and inspection, appraisal, recording and attorney's fees).
Comparables – Properties similar in size and character to the one being bought or sold.
Contingency – A condition that must be satisfied before a contract is binding.
Earnest Money – A portion of the down payment given to the seller by a potential buyer, indicating the buyer's sincere intent to purchase property.
Equity – The value of real estate over and above the liens against it. Equity is obtained by subtracting the total liens from the value.
Escrow – The placement of money or documents with a third party for safekeeping, pending the fulfillment of a specified act or condition.
Foreclosure – Procedure where property pledged as security is sold to pay the debt incurred by default.
Lien – A legal claim against a property that must be paid when the property is sold.
Market Value – The highest price a buyer will pay, and the lowest price the seller will accept.
Private Mortgage Insurance (PMI) – Insurance issued to a lender by a private company to protect the lender against loss on a defaulted mortgage loan. Its use is usually limited to loans with high loan-to-value ratios. The borrower pays the premiums.
Title – A document that's evidence of ownership.
Title Insurance – Protection for lenders and homeowners against financial loss resulting from legal defects in the title.
What do you think?
How do these terms give you a better understanding of real estate?
Additional Resources for Terms and Definitions
Section 4: Becoming a Real Estate Agent
So, you want to become a real estate agent? It's a process with several steps. However, it might be easier than you think.
Eligibility for License
To be eligible for a real estate license, you must first complete a pre-licensing course. The number of course hours you have to take is up to the state in which you plan to work. This requirement varies widely. Depending on the state, you might have to take twice as many pre-licensing course hours as other states.
The courses you must take teach you the basics of real estate. You'll learn real estate terms. You'll also explore different real estate practices like creating competitive market analyses (CMAs). Likewise, you'll look at the legal parts of being a real estate agent.
Most states have options to take these courses either in person or online. But regardless of the state where you plan to work, you can consult the state's real estate commission for detailed information.
Take the Real Estate Licensure Exam
The next step in the process is to take the state licensure exam.
This exam is usually in two parts. The first part covers federal real estate laws. It also tests you on basic real estate principles. The second part of the exam is on laws that are specific to your state.
The real estate licensure exam varies from one state to the next. However, it is made up of multiple-choice questions, usually between 60-100 questions for each part of the exam.
Activate Your Real Estate License
Once you pass your state's real estate license exam, you need to activate your license. There are two parts to this process.
First, you have to activate your license with the state real estate commission. Fees for this vary from state to state, but it's usually a couple of hundred dollars.
Second, you need to join the local multiple listing service (MLS). The MLS is where you list properties for sale. You can also use it to search for properties for buyers that you represent. Properties in the MLS are shared with various real estate websites like Zillow, Trulia, and Realtor.com.
Join a Brokerage
New real estate agents are required to be supervised by a broker. Brokers are licensed by the state in which they work to oversee real estate transactions and sales associates. Usually, you must work with a broker for several years before you can take the broker's exam and become a broker yourself.
What do you think?
Which part of the real estate agent process do you have more questions about?
Additional Resources for Becoming a Real Estate Agent
Section 5: Business Plan
Having a business plan is important for building a successful real estate business. By outlining the resources you have and the goals you have for the future, you have a roadmap you can follow to achieve your business goals.
Below, we've listed some of the critical steps for writing a business plan.
Step 1: Write a Business Description
The business description defines what your business is. It should include a mission statement. The mission statement is a short description of what your business seeks to do.
The business description should also include details about your business. This might include:
The business name
The business motto
Location and contact details
Legal structure
Names of business owners
Step 2: Do a SWOT Analysis
SWOT stands for Strengths, weaknesses, opportunities, and threats. It is a list of what your business does well and what it needs to work on. It also includes a list of opportunities, like the ability to serve currently underserved populations. The threat part of the SWOT analysis discusses things like your direct competitors.
Step 3: List Your Goals
What are the long-term goals for the company? What about the short-term goals?
Step 4: Identify Your Target Audience
Who is your ideal client? Is it first-time homebuyers? Empty-nesters? Commercial real estate investors? Identifying who your clients will be will help you develop a solid business plan.
Step 5: Strategic Plan
The strategic plan is a specific course of action for achieving the goals outlined in step 3. For example, let's assume your goal is for your real estate agency to increase its number of sell-side transactions by 10 percent in the first year. To achieve that goal, you might implement a new communication strategy with clients that require employees to respond to property inquiries within 15 minutes.
Step 6: Determine a Time Frame
Set a time frame for each goal on your list. This helps you differentiate between short-term and long-term goals. It will also help you gauge your progress toward goal completion.
Step 7: Executive Summary
The executive summary is where you define in broad terms what your goals are. Think of it as the cliff's notes version of your business plan. Usually, this is the last step to be completed because it's a summary of everything else in the business plan.
With these seven steps for writing a business plan, you should be able to very clearly define where you are now and where you want to be in the future.
What do you think?
What is your experience with business plans?
Additional Resources for Writing a Business Plan
Section 6: Real Estate Transactions
Real estate transactions have many steps involved. There are also various fees paid by the seller. There are many parties involved too – not just the buyer and seller.
Below is a quick overview of how a real estate transaction unfolds.
An Offer is Made
When a buyer submits an offer, the real estate transaction begins.
An offer is a formal contract that shows the price the buyer is offering. It also outlines the terms the buyers would like for the sale. For example, the buyer would specify the length of time they would like to have to close the sale.
Open an Escrow Account
Once the buyers and sellers agree on the terms of the sale, an official sales contract is signed. At that point, an escrow account is opened. An escrow account is controlled by a third party. This is done to protect both buyers and sellers.
The escrow holder holds the funds related to the transaction until each part of the sales process is completed. This includes earnest money. Earnest money is just one of the fees associated with the escrow account. It is deposited into the escrow account by the buyer. It's made to show good faith that you're serious about buying the property. If you back out of the transaction, you could lose the earnest money. If the seller backs out, you can get your money back.
Title Search, Title Insurance, and Inspections
Next, a title search is done to ensure that the property is free and clear from any liens. Title insurance protects the policyholder from loss should a defect be discovered in the property title.
At this point, inspections can be done. Inspections can include a physical examination of the home and property. Inspectors look at every corner of the property, including:
The roof
The foundation
Plumbing
Electrical
Heat and air systems
Windows and doors
If there are issues brought up in the inspection, the buyer can ask the seller to fix the problems or reduce the asking price accordingly.
Get Approved by Your Lender
The next step in the process is to get approved by a lender.
The contract you sign with the seller will say how many days you have to secure a new loan. Usually, this period is 30-60 days. This gives the underwriter enough time to examine your credit as a buyer. They also examine the value of the home.
Closing
The last step for the parties involved is closing.
Closing is when the title of the property is legally transferred to the buyer. You'll receive lots of paperwork at closing. As the buyer, this includes the property title and all the loan paperwork. At the end of the process, you'll get the keys to the property. The title company will record the transaction with the proper authorities. At that point, the transaction is complete.
What do you think?
How would you describe the process of a real estate transaction?
Additional Resources for Real Estate Transactions
Section 7: Investing in Real Estate
As noted earlier, investing in real estate has the advantage of being stable. At least more stable than many stocks. There are many benefits of real estate investing. Tax advantages are a primary benefit. But there are some risks as well.
There are many tax advantages of real estate investing. This includes:
Property tax deductions
Mortgage interest tax deductions
Depreciation deductions
Deductions for the cost of maintenance, repairs and upkeep
One way to get these tax advantages is to join a real estate investment trust. These trusts allow you to invest in real estate without owning the property. Likewise, you don't have to manage the properties in which you invest. There are many real estate investment trusts that are publicly traded on stock exchanges.
Real estate investing companies are quite common. These companies handle maintenance, legal issues, and so forth. You earn a return on your investment and make passive income.
Some popular real estate investing companies are:
Another option is real estate crowdfunding.
Crowdfunding is a lot like an investment trust. It brings many people together to invest in a property. So, the company building the property can raise capital for construction. By crowdfunding, investors become shareholders.
Some of the top real estate crowdfunding sites include:
As mentioned before, there are a lot of risks involved in real estate investing.
For private real estate investing and crowdfunding, there's always general market risk. This includes normal ups and downs in the real estate market. Inflation, interest rates, and the general health of the economy can contribute to market risk.
Another type of risk to worry about is liquidity risk. Some properties have a lot of investors. This makes it easier for you to get out of the investment should you need access to liquid assets. Other properties have just a few investors. This makes it very difficult to get your money out.
You should also consider asset-level risk. Some properties are considered low-risk investments regardless of the state of the economy. Apartment buildings are a good example of this.
However, other properties pose a significant risk. Shopping malls would be a good example. As malls have become less and less attractive to tenants, investing in a mall is considered a big risk.
These are just three examples of risk in real estate investing. Check out the links below for more details on this subject.
What do you think?
What are the risks and rewards of investing in real estate?
Additional Resources for Investing in Real Estate
Section 8: Real Estate Broker
A real estate broker is a real estate agent that is licensed to manage their own business. Real estate agents that are not licensed brokers must work with a broker to buy and sell real estate.
Brokers have incredible importance in real estate. They help manage real estate transactions. They also supervise the practice of real estate agents in their brokerage. Additionally, brokers:
Provide training for agents
Verify the licensing credentials of all the agents in their office
Provide marketing resources for agents (i.e., maintaining a website and social media channels)
Oversee the behavior of agents in the office
Ensure legal compliance of all agents in the office
Ensure the highest levels of service for clients
Brokers have many responsibilities for the day-to-day functioning of their office. As such, they take on a lot of risks. Part of reducing that risk is taking an active role in the supervision of the agents in the office. Brokers are also responsible for the training and education of the agents they supervise.
A good job description for a real estate broker might be a real estate agent that is licensed to operate their own real estate business, helps people buy, sell, and rent real estate, and oversees the work of other real estate agents.
There are two main types of brokers:
A real estate broker is the managing broker. A real estate agency only has one broker.
An associate broker works under a broker but has a broker's license. Associate brokers choose to work under a broker, even though they have the licensure to manage a real estate agency on their own.
What do you think?
Do you have interest in becoming a real estate broker and own your own business?
Additional Resources for Real Estate Broker
Section 9: Real Estate Law
Real estate law is a complex set of laws. However, a simple definition might be a collection of laws that govern who can own land and what they can do with it.
The purpose of real estate law is to ensure that real estate transactions are legal. Likewise, real estate laws ensure that transactions are performed properly. They must also be recorded properly with the right government entities.
Additionally, local and state governments have specific laws regarding which land can be used for what purpose. For example, a city council might approve a rezoning of a plot of land from residential to commercial use.
There are many terms to know when talking about real estate law. Some of the most common terms are listed below.
Building Codes – Building codes are safety rules. These rules are adopted by a specific group, such as a city or town. These codes regulate things like the design of buildings. They also say how buildings must be constructed.
Foreclosure – A foreclosure occurs when the buyer of a property fails to pay back the loan. When this happens, the lender takes full ownership of the property.
Guaranty – A guaranty is an agreement that a person will pay amounts due or perform the obligations of another person. For example, Sally would promise to pay the loan that her husband Tim owes to the bank.
Lending regulations – These rules are issued by state and federal agencies. They regulated the lending industry to protect borrowers.
Lien – A lien is a stake in a property granted to another party by the owner of the property. The lien is held until the mortgage is paid in full.
Mortgage – A mortgage is a loan that is used by the buyer to purchase a property. The buyer gives the lender partial ownership of the property as collateral, called a lien. When the loan is paid in full, the lender releases its stake in the property.
Power of sale – This is the right by a person to sell an asset without having to go to court to do so.
Underwriting – Underwriting is the process a lender goes through to determine the creditworthiness of a potential borrower.
What do you think?
How does real estate law affect your thoughts on becoming a realtor?
Additional Resources for Real Estate Law
Section 10: Real Estate Certifications and Courses
To become a real estate agent, you have to take some specific courses. There are also different certifications you can get. Below, we've outlined some of the most common courses and certifications.
Common Real Estate Courses
Real Estate Principles – This course is a basic introduction to real estate. You'll learn about the process of buying and selling real estate. You'll also learn how to determine the value of a property. Other topics include:
Taxes
Financing
Contracts
Listing properties in the MLS
Escrow procedures
Closing practices
Ethics
Real Estate Practice – This course focuses in part on business practices. You'll learn how to operate your own business. You'll also learn how to manage finances and subordinates. Usually, courses like this also include a discussion of how to price homes appropriately.
Real Estate Law – This course explores the laws that govern real estate. You'll examine contracts and disclosure guidelines. You'll also learn about common legal myths.
Real Estate Finance – This course covers the ins and outs of financing for real estate. This includes a discussion of the types of mortgages. You'll also learn about different loan programs. For example, you will see how loans from the Veteran's Administration are different from Rural Development loans.
Property Management – Property management courses focus on the principles of managing real estate for property owners. You'll learn about building supervision and housing laws. You'll also learn about subsidizing housing and rules for tenant leasing.
Real Estate Certifications
To expand their knowledge and skills, many real estate agents pursue certifications. These certifications help real estate agents provide more competent service to their clients. A few of the most common certifications are listed below.
Certified Property Manager (CPM) – This certification shows expertise in the field of real estate management. Property managers often choose to pursue this certification. It is offered by the Institute of Real Estate Management.
Certified Residential Specialist (CRS) – This certification is the highest credential that a residential real estate agent can obtain. It is offered by the Residential Real Estate Council.
Graduate, Realtor Institute (GRI) – Realtors are real estate agents that are members of the National Association of Realtors (NAR). With this designation, Realtors show they have higher-level training in legal issues and regulatory matters. Additionally, the GRI designation shows expertise in real estate sales, technology, and professional standards. It is provided by the National Association of Realtors.
Seller Representative Specialist (SRS) – This designation shows a higher level of understanding of professional standards in representing sellers. It is offered by the Real Estate Business Institute (REBI)
Additional Resources for Real Estate Certifications and Courses
Sean Jackson
Sean has worked in the real estate industry since 2013 as marketing director and listing coordinator for a small agency in Wyoming. He has a B.A. in psychology, a B.A. in secondary education, a B.S. in website design and development, and a M.S. in counseling.
July 2020
More Courses: