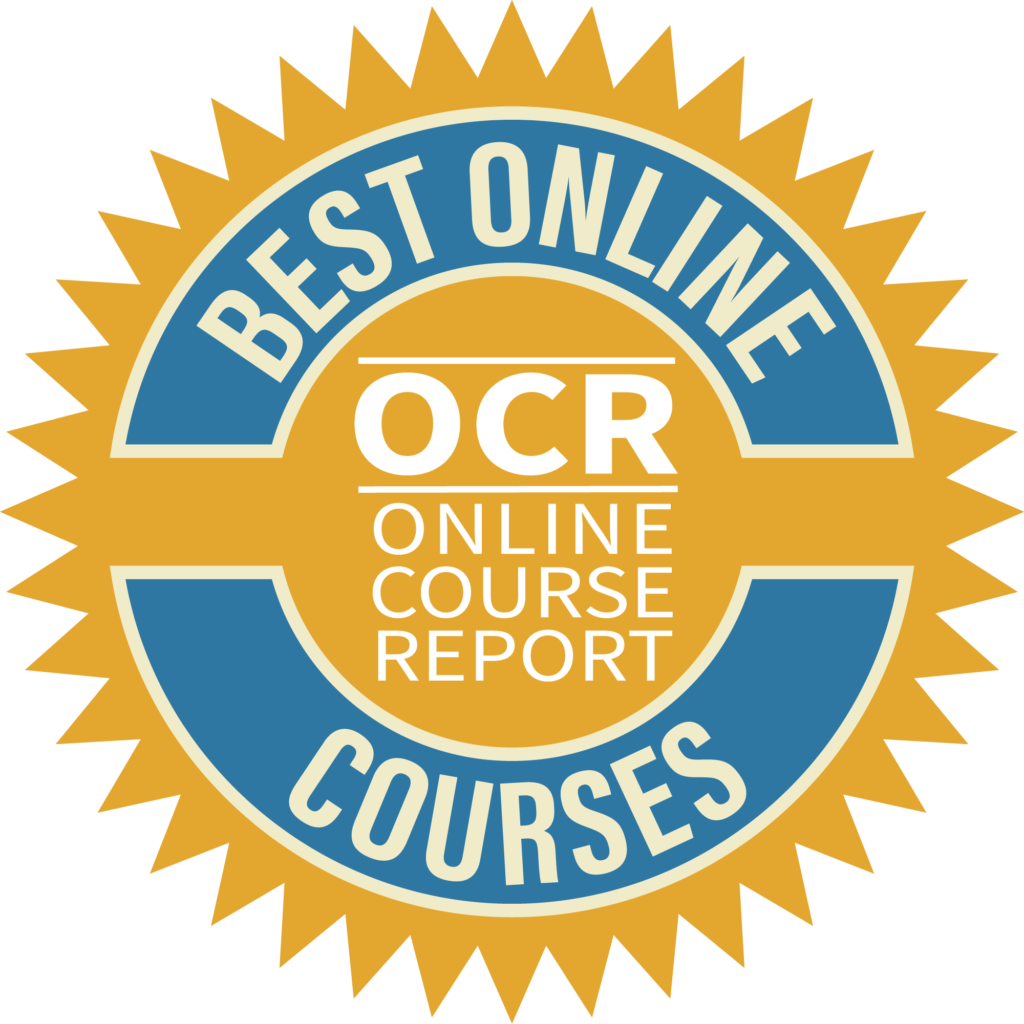 Design thinking is easy to define. Putting design thinking into practice can be harder to do.
A basic definition of design thinking is a process by which one tries new strategies for solving problems.
But a deeper definition is needed to fully understand design thinking.
Part of the process is to challenge what we think about things.
For example, design thinking challenged the idea that mobile phones had to have physical buttons. Therefore, when the iPhone and similar phones were developed, they featured touchscreens.
Featured Programs
Disclaimer: Some courses may include an affiliate link. Courses were chosen first based on the methodology with affiliate links only added after the ranking was complete.
Design thinking is also used to examine problems. Design thinking seeks to redefine problems using new strategies too.
For example, a few years ago, Ford wanted to reduce the weight of its trucks. To do so, engineers approached the problem by using aluminum rather than steel to build truck beds. Aluminum is much lighter than steel. This allowed Ford to reduce the weight of their trucks as desired.
So, design thinking is all about problem solving. It's all about using a solution-based approach as well. It is used by designers of all kinds. Car designers, interior designers, web designers, and many others use this process. It is not industry-specific. Using design thinking for innovation purposes is a matter of asking questions and coming up with possible solutions.
For many people, getting a design thinking certification online is the best way to train themselves to use this useful process.
Below is a list of the 10 best design thinking certification programs currently available. This list was made using a three-part methodology. The factors used to evaluate each course include:
Affordability
Flexibility
Course Ratings
By creating this scoring method, we're able to see each course through different lenses. Doing so will help you develop a better understanding of which courses and certifications in design thinking are best for you.
Let's take a look at how we scored each certification program.
Methodology to Determine the Best Online Courses for Design Thinking
A design thinking certification could help you get a new job. It could also help you move up in your current job.
Deciding to get certified in design thinking is only part of the battle. You need to spend time researching the best design thinking certification. By doing so, you can make an informed decision about the program in which you enroll.
Our methodology helps you do this by looking at each program from different angles. This gives you a more well-rounded report of what each program has to offer.
Each course in our rankings is given individual scores for each of the three factors noted earlier. Each course also gets an overall score. The overall score is used to rank the courses in order, from lowest to highest.
For many students, the expenses of a course are the top priority. But affordability isn't the only important factor. This is why we've chosen to evaluate these courses on how flexible they are. We also think it's important to consider how well a course is reviewed.
In the next section, we review each of the three ranking criteria in more detail.
Affordability
The courses on our list include both free and paid options. Don't assume that paid options are better, though.
In our rankings, we give free and inexpensive courses the highest point values. This is to reflect how important affordability is to so many students.
Here's how we scored this factor:
Free: 6 points
Under $500: 5 points
$501-1,500: 4 points
$1,501-2,500: 3 points
$2,501-3,500: 2 points
$3,501 and above: 1 point
Notice that as the price of a course increases, its point value decreases. This isn't to say that all paid courses are bad or that all free courses are good. Far from it.
But affordability is used as a central measure with the other two factors used to support it.
Flexibility
Many learners want to learn online because of the flexibility it offers. Not all online courses are equally flexible though.
Design thinking certification courses have different levels of flexibility. Some are self-paced, so you can take as long as you like. Others have specific deadlines or testing dates you have to adhere to.
This factor is scored as such:
Highly flexible: 2 points
Moderate flexibility: 1 point
Low flexibility: 0 points
Each course in this ranking has moderate or high flexibility. If an online course is inflexible, it defeats the purpose of online learning!
Course Ratings
The third part of our ranking criteria is course ratings.
The course ratings left by previous students can be very informative. But you have to look at them the right way.
For example, a course that has a five-star rating might look great at first. But if that ranking is based on three reviews, it might not be as reliable as one based on 3,000 reviews.
Course ratings are also very subjective. A student could leave a negative review of a course because they earned a bad grade and felt it was the teacher's fault.
However, they can still provide you with insight into a course that the affordability and flexibility factors can't provide. Course ratings speak to the student experience. That experience is critically important for your success.
This criterion is scored as follows:
5 stars: 5 points
4.5+ stars: 4 points
4+ stars: 3 points
3.5+ stars: 2 points
3.4 stars and below: 1 point
No ratings: 0 points
With a better idea of what our methodology looks like, let's see how it is used to rank the ten best design thinking certification programs.
Ranking the Best Online Courses for Design Thinking
#10: Design Thinking Certificate
This design thinking certification program is from Cornell University. It is an Ivy League school and is well-respected.
The focus of the program is to learn a human-centered approach to designing products and services. You can use this approach to improve existing products and services as well.
Students in this class learn how to apply design thinking to many different problems. They also explore how the design thinking process changes as the scale of the problem increases or decreases.
Learning experiences in this certification program include:
Identifying problems and unique solutions
Developing your own prototype product
Refining your product based on testing
This program includes six courses, all of which are 100 percent online. Each course lasts three weeks. You will need to put in about 3-5 hours of work per week.
The program for design thinking was developed by Cornell faculty. This helps ensure academic rigor.
Points: 3
Affordability: $3,600 (at the time of writing)
Flexibility: Highly flexible. This course is offered totally online. You can learn at any time of day or night as your schedule allows.
Course Ratings: None. However, Cornell is a top university. This certificate course is a good example of quality learning, even though there are no course ratings.
#9: Mastering Design Thinking
The Massachusetts Institute of Technology developed this design thinking course. It was created for people already working in the business field who want to develop their design thinking skills.
This class uses a mix of live lectures, videos, group assignments, and more. You'll learn the fundamentals of how to better meet the needs of your customers. You'll also participate in individual assignments and a team-based capstone project.
Topics you'll discuss in this class include:
Design thinking skills
Identifying customer needs
Developing product/service specifications
You will also discover solution concepts, brainstorming principles, and other creative thinking skills.
This online design thinking course lasts three months. It requires six to eight hours of work each week, so it is an intensive class.
Points: 3
Affordability: $3,300 (at the time of writing)
Flexibility: Moderately flexible. This course is 100 percent online, enabling you to work on assignments when you can. It is instructor-led, however. This means there are specific deadlines you must meet.
Course Ratings: None. MIT is a prestigious school though. It is consistently ranked as one of the top universities in the United States.
#8: Advanced Design Thinking Certificate
This certificate program is offered by IDEO U and is the second part of a two-part certification process.
The first certification, Foundations in Design Thinking, must be completed before this certificate program is started.
The advanced portion of this design thinking certificate program comes from taking three advanced design thinking courses. Two of these courses are required. You may choose between two courses to fulfill the third requirement. These courses explore concepts like:
How to tell compelling stories that motivate and inspire
How to unlock your creativity
How to design a business
How to create person-centered service designs
Completing this advanced certificate in design thinking requires about five months. This includes the time needed to finish the foundations certificate.
Each course is instructor-paced, with the exception of one of the optional advanced classes, which is self-paced.
Points: 5
Affordability: $1,397 (at the time of writing)
Flexibility: Moderately flexible. Most courses are instructor-paced. You must stick to an established schedule for most classes as well. All learning is done online, though. This enables you to learn at the time of day that best fits your schedule.
Course Ratings: None.
#7: Foundations in Design Thinking Certificate
This certificate program was designed by IDEO U. The focus of this program is to help you gain a practical understanding of how to apply design thinking principles. You learn these principles and how to apply them through hands-on learning exercises.
The design thinking course content is best for beginners. It offers an introduction to design thinking. This is accomplished through video lessons, discussions with classmates, and feedback from teachers.
This online design thinking course is comprised of two classes, which cover topics related to:
Observing with the eyes to learn what people really want
How to conduct interviews to get more honest responses
Sharing insights in a way that compels innovation
Methods for brainstorming new ideas
How to quickly prototype to make your ideas tangible
This certificate in design thinking requires about 12 weeks to finish, so it is a longer course. It's also instructor-paced, so you'll need to stay on top of your studies and assignments.
Once you finish this foundations course, you might consider taking the Advanced Design Thinking Certificate course to develop your skills even further.
Points: 5
Affordability: $1,198 (at the time of writing)
Flexibility: Moderately flexible. This certificate course is instructor-paced. It is also governed by a specific class schedule. All activities are done online, so you can learn at any time of day.
Course Ratings: None.
#6: Design Thinking
Provided by the Rochester Institute of Technology (RIT) and edX, this course includes five individual classes. Each class builds on the others to help you better understand strategic thinking and innovation.
This series of classes is focused on helping you develop problem solving and analytical skills. Furthermore, you'll explore ways to improve:
Critical thinking
Change implementation
Design processes
There is also a focus on collaborative design thinking. You will gain skills that allow you to be a team player and an empathic one at that.
This MicroMasters program requires about 30 weeks to complete. The courses in this design thinking program are eligible for credit from RIT if so desired.
Points: 6
Affordability: $1,345.50 (at the time of writing)
Flexibility: Highly flexible. This certificate course is self-paced. All courses are 100 percent online. You can complete your studies according to your work and life schedules.
Course Ratings: None.
#5: Learning Design Thinking: Lead Change in Your Organization
This is a beginner course in design thinking from LinkedIn. It explores how you can use design thinking to creatively solve problems.
You'll learn that innovation requires collaboration. This includes working with others to create and test concepts. It also includes learning how to find unique, user-centered ways of addressing critical issues.
In this class, you'll learn many new strategies that can lead to change, including:
How to be a good design thinking leader
How to set effective goals
How to use the different skills of stakeholders to meet goals
You learn these skills under the umbrella of collaboration. Working together is the key to bring about positive change.
This is a short course in design thinking. It includes a short introduction, four lessons, and a closing message. The course can easily be completed in one sitting.
Points: 7
Affordability: $29.99 (at the time of writing) Try Linkedin Learning for free.
Flexibility: Highly flexible. This is a self-paced course. You can engage with the course on a computer or mobile device for easier access. All learning materials are online as well.
Course Ratings: None.
#4: Design Thinking in 3 Steps
This beginner course from Udemy challenges you to develop your design thinking skills in just three steps.
Over the course of the online design thinking class, you'll hit on many important design thinking topics, including:
Design thinking frameworks
Creative problem solving
How to create prototypes
How to use the customer's perspective to minimize problems
Additionally, this course explores methods you can use to improve innovation. This includes learning how to plan design research, conduct user interviews, and use storyboarding techniques.
This online design thinking course includes 55 short lectures on very specific topics. There are nearly two hours of on-demand video to assist you in your learning. The course also comes with multiple articles and downloadable resources.
Points: 10
Affordability: $199 (at the time of writing)
Flexibility: Highly flexible. Upon enrollment, you get immediate access to the course. You get lifetime access as well. Learn as quickly or as slowly as you need.
Course Ratings: 4.4 out of 5 stars (based on 23,531 ratings)
#3: Managing Innovation and Design Thinking Specialization
This course from HEC Paris and Coursera is a beginner-level specialization in design thinking. It includes four individual classes that must be completed to get the certificate.
Throughout this online design thinking course, you will learn methods that will help drive innovation in your business. This is true whether you're just starting out or if you're the head of a large corporation.
You'll explore structured models and learn about tried-and-true techniques that will help you bring about change. This includes learning how to:
Prototype a product or service
Design a framework that helps encourage creativity
Make strategic decisions that foster innovation
There is also an emphasis on learning how to build a team that can work together to devise creative solutions.
You'll need about five months to complete this course. At the course's end, you will earn a design thinking certification.
Points: 11
Affordability: Approximately $195-$445. A fee (usually around $50) might be required. Other costs may be involved if you participate in a specialization. Learn more about Coursera pricing. This online design thinking course is scored as a free course.
Flexibility: Highly flexible. Each class in this specialization is self-paced. You can adjust deadlines as needed. All learning materials are available online as well.
Course Ratings: 4.7 out of 5 stars (based on 1,334 ratings)
#2: Design-Led Strategy: Design Thinking for Business Strategy and Entrepreneurship
This design thinking program is offered by Coursera. It was developed by the University of Sydney. It is an intermediate course for people with experience in business.
By taking this top design thinking course, you'll learn about tools and techniques you can use to develop new and exciting products. This is true whether you own a small business on your own or you're an executive in a multinational company.
To improve your design thinking skills, you will:
Learn how to combat groupthink
Explore design strategies
Evaluate how real-life companies have incorporated design thinking
For most students, this course requires five weeks to complete. Each week requires between two and four hours of work to complete the necessary assignments. There are around two dozen videos, weekly assignments, and quizzes to help gauge your learning.
Points: 12
Affordability: Free to enroll. A fee (usually around $50) might be required. Other costs may be involved if you participate in a specialization. Learn more about Coursera pricing. This course is scored as a free course.
Flexibility: Highly flexible. This course is completely online. You can begin your studies immediately upon enrollment. Deadlines can be adjusted as needed to accommodate your schedule.
Course Ratings: 4.6 out of 5 stars (based on 439 ratings)
#1: Design Thinking for Innovation
This best course for design thinking beginner level course is offered by the University of Virginia and Coursera. It is designed to meet the needs of innovation for people with all levels of experience in business.
The focus of this course is on innovation. You'll learn what it means to be innovative. You'll gain skills that help you be more innovative. You'll also explore how innovation can improve the bottom line of any company.
Course topics include:
What is design thinking, and what can you do with it?
How can you use design thinking to develop innovative products?
How can you recognize new opportunities for innovation?
This is a short course. It requires just six hours of work. Most students complete it in a couple of weeks. To assist you in your learning, there are 20 videos and multiple readings.
Points: 12
Affordability: Free to enroll. A fee (usually around $50) might be required. Other costs may be involved if you participate in a specialization. Learn more about Coursera pricing. This course is scored as a free course.
Flexibility: Highly flexible. This is a self-paced course. You can adjust deadlines as needed. Begin your studies immediately upon enrollment.
Course Ratings: 4.6 out of 5 stars (based on 4,957 ratings)
Frequently Asked Questions
What are the benefits of design thinking?
The design thinking approach provides many benefits. These benefits apply to many industries. One of the biggest benefits of design thinking is the way it challenges ways of thinking. This brings about creativity and innovation. This, in turn, improves the quality of products and services.
There are many other benefits of design thinking. Some of the most common benefits are described below.
More satisfied customers – Design thinking takes into account the needs and wants of people that use products and services. Listening to those needs and wants results in higher customer satisfaction. Specifically, design thinking is a way of making a stronger connection between the people that create products and services and the people that use them.
Risk is reduced – When using a design thinking approach, companies spend a lot of time in the development stage of a product or service. This includes creating multiple prototypes that are tested by consumers. Doing so allows companies to get genuine feedback from real customers. This enables companies to adjust products and services to best fit the end-user's needs. In turn, this eliminates a cycle of poor idea development. It also helps prevent the development of bad products and services and launching products that consumers have little use for.
Fosters innovation – Design thinking fosters innovation like no other process. In design thinking, companies don't take baby steps to improve a product or service. Instead, the design thinking approach creates an environment of creative thought that leads to truly innovative ideas. By speeding up the process of innovation, companies can stay ahead of their competitors with products and services that are on the cutting-edge of development.
Collaboration is improved – Great ideas can come from individuals. But when a group of individuals works together toward a common goal, more ideas are often the result. The collaborative nature of design thinking helps bring many different voices to the forefront. This allows teams to see things from multiple perspectives. It also allows teams to reap the benefits of the collective experience and creativity of the group.
Problems are more easily solved – Design thinking isn't used just to generate creative ideas. Design thinking is also problem-focused. The goal is to determine the main issue at hand and work towards finding unique solutions to that problem. This is done through collaboration with many different experts, leaders, and even consumers.
Empathy is valued – What makes design thinking such a good process for problem solving is its focus on empathy. Companies can't create new and better products or services if they can't understand how consumers need those products and services to work. By developing an understanding of what customers need, companies are able to better meet those needs. Companies can also give the end-user a much better experience.
Pace of learning is improved – Design thinking isn't just for product development. It can be applied to many situations, including education. By using the design thinking process, groups can leverage the collective expertise to generate unique ideas and solutions to problems. The result is faster solutions, but a faster pace of learning as well.
What is the best way to learn design thinking?
One of the best ways to learn design thinking is to take an online course. Better yet, getting an online certification in design thinking will prepare you even more.
The benefit of learning about design thinking online is that you can do so from the comfort of your own home. If you have family or work obligations, taking on-campus classes might not be possible. But with online learning, you can do your coursework morning, noon, or night.
Additionally, there are many online design thinking courses that are free or low-cost. This enables you to gain important new skills without spending much money. Many of these courses are from top schools too. As shown in our rankings, there are options from MIT, Cornell, the University of Virginia, and the University of Sydney, among others.
Certification programs in design thinking are usually more expensive. This is because certifications usually include multiple classes. The extra expense might be worth it, though. By taking additional classes, you'll have that much more knowledge and skills to put design thinking to work for you.
Online design thinking courses are a good option for another reason: the faculty. The people that teach these courses typically have excellent credentials. Not only that, they are often experts in the field of design thinking. In other words, you get a high-quality education without having to leave home!
How do I become good at design thinking?
The first step to becoming adept at design thinking is to take a class. As discussed above, there are many excellent online design thinking courses that will introduce you to critical design thinking topics.
But taking classes isn't enough. You need to gain experience using design thinking principles in the real world.
Many design thinking courses give students opportunities to apply what they've learned. Sometimes, this is in the form of case studies. Others, it's group projects in which you're tasked with solving a problem together. In other cases, students take part in job shadow or internship opportunities to gain practical experience.
Just like with any skill, becoming an expert in design thinking requires time and practice. Furthermore, you need to apply what you've learned to many different situations. Use it to problem-solve a workplace issue. Then use it to generate new ideas for a product update. Find ways to use design thinking to change the way customers interact with a product or service.
By consistently engaging in the design thinking process, you'll begin to see how you can use it to solve any number of problems both big and small. This gives you flexibility in terms of how you apply design thinking. At that point, you'll truly be able to harness its power to effect positive change.
Take the initiative at work to lead a design thinking process. Watch others as they implement design thinking at their workplace. Attend conferences and events to learn even more skills. Make it a point to bring design thinking to the forefront of your work life. Doing so will give you the opportunities you need to practice.
In what industries can design thinking be used?
Though the term "design thinking" might make you think that it's only used by designers, this couldn't be further from the truth.
The reality is that design thinking strategies can be used in any type of business or industry. Since the goal of design thinking is to innovate and find new and unique solutions to problems, it's something that is applicable for everything from education to the insurance industry to art and design.
Design thinking is used a lot in service-oriented industries. This is because design thinking strives to find ways to better understand the end-user of products and services.
This being the case, service-based industries like food and beverage companies, banks, and clothing retailers have adopted design thinking principles.
What are some examples of design thinking?
There are excellent examples of design thinking in all corners of the business world. This includes in manufacturing and healthcare. Hospitality and banking, too. Design thinking has had a significant impact on many different types of businesses.
Below are just a handful of examples of design thinking in action.
Airbnb – Airbnb credits the design thinking process with taking it from "a failing startup to a billion-dollar business." Specifically, the company used design thinking to help build a culture of experimentation. It paid off. Staffers were able to problem-solve their way out of financial ruin.
Clean Team – Clean Team was developed by several companies to provide in-home toilets to urban poor households in Ghana. Clean Team solved one of Ghana's most basic needs by creating an innovative solution. The result was a comprehensive sanitation system. The system is delivered and maintained in the homes of people that subscribe to the service. This has in turn improved the sanitation of many of Ghana's urban poor neighborhoods.
Stanford Hospital – Stanford Hospital used design thinking principles to improve the patient experience in their emergency room. Administrators at the hospital have also used design thinking to brainstorm ideas for revamping nursing units to provide better care for cancer patients.
Bank of America – Faced with the problem of fewer people opening accounts, Bank of America turned to design thinking. As a result of that process, the bank developed its "Keep the Change" program. The program rounds purchases up to the nearest dollar. Then, the change is transferred from your checking to a savings account. The program proved successful for gaining new customers.
Procter & Gamble – Design thinking was used to learn more about how customers cleaned floors. Procter & Gamble visited people in their homes to observe how they cleaned. They realized that people swept before mopping. This created a long and unpleasant chore. So, the company wanted to find a better solution. Their efforts resulted in the Swiffer Mop. This new mop greatly reduced the amount of time needed to clean the floor.
Netflix – One of the best examples of a company using design thinking is Netflix. Design thinking was used to develop its recommendation engine, which provides users with movies and shows based on their personal preferences. Even before that, Netflix used design thinking to expand its offerings from DVDs in the mail to streaming services. This is an important example of the value of design thinking. It challenges you to come up with new ideas, even if your current product or service is doing very well.
Intuit – Design thinking has also had a significant impact on personal software. Intuit, a software company, used design thinking principles to develop financial software that was easy to use. This was done by presenting financial information in the form of a check register instead of a spreadsheet. How did Intuit figure out this would work better? By working with end-users and listening to their needs. That's all part of design thinking!
How do you become a design thinking coach?
The process of becoming a design thinking coach is fairly straightforward.
First, you need to have experience in design thinking. You don't need decades of experience, but you should have a very good understanding of design thinking and a track record of using it effectively.
Second, explore your options for design thinking coaching courses. There are many courses and certifications online. These courses give you the advanced training you need to deepen your understanding of design thinking. They also give you the opportunity to learn how to teach design thinking to others. After all, doing it is one thing. Teaching others how to use design thinking is another.
Third, enroll in your selected course. Strive to be an active participant in the course or certification program. Don't sit idly by and be a passive learner! Instead, engage in the coursework. Dive deep into the concepts that are presented. Seek to master each concept so you have the confidence to teach others how to master the same concepts later on.
Finally, it's time to get experience. You'll likely get hands-on experience in the education phase of becoming a design thinking coach. But now it's time to get paid for your work.
Many new design thinking coaches work with experienced coaches to get their foot in the door. This helps take the pressure off of you to lead seminars on your own. It also gives you a front-row seat to seeing design thinking coaching in action.
It might also be helpful to join coaching groups, that way you can make connections with more experienced design thinking coaches that can provide you with advice on how to advance your career.
Of course, you'll need to focus on marketing your services, too. Social media is a great way to market your coaching services. It's cost-effective, and you can reach a very wide audience.
What is Stanford Design Thinking?
Stanford University is well-known as a hub for design thinking. They have a design thinking bootcamp that helps you learn skills to solve challenges and apply them using human-centered techniques. This bootcamp is an on-campus workshop, otherwise, it would have been in our rankings.
Stanford's d.school is especially central to design thinking. The school's mantra is that "everyone has the capacity to be creative." The d.school is a place where people can go to tap into their creativity. This is important because having the creative capacity to find unique solutions to problems is critical to the design thinking process.
OCR Staff
July 2020
More Rankings of Interest: