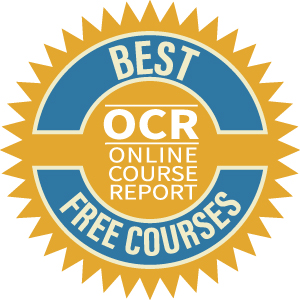 UX designers strive to make products useful for consumers by focusing on their design, functionality, usability, and overall branding. Their end goal is to ensure the interaction between you and the product is smooth, pleasant, and problem-free.
UX stands for "User Experience." It was coined in the 90s by Donald Norman, a cognitive scientist working for Apple.
Featured Programs
Disclaimer: Some courses may include an affiliate link. Courses were chosen first based on the methodology with affiliate links only added after the ranking was complete.
Considering the billions of products and services available globally, UX Design—or simply "UX"—is a broad field. At its heart, though, is technology. The best UX designers know this and are always on the lookout for ways to make themselves and the products they create better. This is where free online classes in UX design come in.
In this article, we list 10 UX design courses you can take online for free. They are ranked using a methodology we developed to sift through dozens of courses until we settle on only the best. They are listed in descending order with our favorite picks at the top, but honestly, any of these courses would be an excellent choice for learning more about UX.
Ranking 10 Free Online Courses for UX Design
1. Hack Design Learning Platform
Offered by Hack Design
Hack's tagline is "An easy to follow design course for people who do amazing things." We love the sound of that, and this course truly lives up to the hype.
There are 50 lessons you can access right on the homepage, with no strings attached whatsoever. If you want more, just enter your email to receive new design lessons in your inbox every week. Here's an example of some of the lessons:
An Introduction to User Experience Design
Rapid Prototyping Tools & Best Practices
Defining & Expanding User Experience
Understanding the User in User Experience
The Medium and Mechanics of Iconography
Making the content flow: introducing responsive web design
Designing your first iPhone App
As you can see, there is a lot to dig into here, and although certification is not offered with these classes, the stellar content more than makes up for that minor flaw. Furthermore, the platform itself boasts a brilliant UX design that makes it easy for students to learn.
Cost: Free
Certificate: No
Time to Complete: Varies
Curriculum: Introductory to advanced
User Experience: Excellent
Quality of Instruction: Excellent
Pros:
•Taught by experienced industry leaders
•No sign up needed for the first 50 lessons
•Excellent user experience
Cons:
•None
2. UX Design Fundamentals
Offered by CalArts via Coursera
This is the second course in a UX Design Specialization offered by CalArts. It's hosted on Coursera, and it's one of their top offerings in the UX category. Those with some prior experience in visual or graphic design will find it especially helpful, but it's an introductory course that is open to anyone.
There's a strong focus on visual design with this course, rather than programming or marketing. It takes a practical and hands-on approach to UX design that students will find refreshing. 13 hours is all you will need to complete the four modules, which consist of:
• Week 1: Ideation, articulation, and development
• Week 2: Planning, testing, researching, and mapping
• Week 3: Logic, functionality, and building a wireframe
• Week 4: Building a prototype and simulating the experience
It's easy to sign up for the course, and it can be taken in audit mode at no charge. If you would like certification, you will need to pay a fee.
Cost: Free
Certificate: Yes, with a fee
Time to Complete: 13 hours
Curriculum: Introductory
User Experience: Excellent
Quality of Instruction: Excellent
Pros:
•Set your own schedule and go at your own pace
•Perfect for those who want a practical approach to learning UX
•Entirely free courseware from CalArts
Cons:
•Certificate not offered at the paid level
3. UX Research
Offered by HEC Montréal via edX
If you want to learn how designers connect with users through each step of the digital product creation process, this course is for you. This MOOC is six weeks long and will teach students how to use interviews, observation, cultural probes, surveys, and analytics to collect and evaluate user information. Topics covered include:
• User data collection in an IT project
• User research methods and process
• Internal, external, primary, and secondary data sources
• Purpose, pros & cons of qualitative and quantitative UX method
• Collected data analysis to extract insights
It takes about six weeks to complete, and students can opt to purchase a verified certificate. However, the certification is not mandatory, and the class can be taken in its entirety for free in audit mode.
Cost: Free
Certificate: Yes, with a fee
Time to Complete: Six weeks
Curriculum: Introductory to Intermediate
User Experience: Excellent
Quality of Instruction: Excellent
Pros:
•The course can also be accessed on mobile
•Taught by two professors from HEC Montréal
•No credit card required
Cons:
•Certificate is fee-based
4. Mobile Interaction Design: How to Design Usable Mobile Products and Services
Offered by National Research University Higher School of Economics via Coursera
This free intermediate level UX course is the most comprehensive offering on our list. It's 117 hours long and teaches students how to shape mobile products and services for usability. This is accomplished by instruction on:
• Interaction design activities and their place in the whole product design process
• User research methods with a focus on the qualitative ones
• Usability inspection and empirical usability evaluation methods
• The process of design creation and best practices from interaction design, information architecture and visual design fields of study.
This course was created for those with limited experience in interaction design but who are involved in designing digital interactive products. The products don't necessarily need to be for mobile to benefit from the lessons. Junior UX professionals, developers, visual designers, and managers will find it helpful.
Upon completion, students will be able to:
• Eliminate different types of interaction problems and improve designs
• Design large chunks of user interfaces
• Redesign a whole app by a specific set of functions
Like all Coursera offerings, you can audit the courses at no charge by listening to lectures and reading all the course materials. The paid version allows you to take part in graded assignments and receive a certification. Financial aid is available for those who qualify.
Cost: Free
Certificate: Yes, with fee
Time to Complete: 117 hours
Curriculum: Intermediate
User Experience: Excellent
Quality of Instruction: Excellent
Pros:
•The course can also be accessed on all digital platforms
•The most comprehensive free UX design course on our list
• Great for professionals at all stages of UX design
Cons:
•Certificate is fee-based
5. Digital Skills: User Experience
Offered by Accenture via Future Learn
This free interactive course on user experience is hosted on the Future Learn platform and offered through Accenture. One of the best things about this option is that Accenture provides students with a free digital upgrade, so you can earn certification at no charge. Plus, you will have unlimited access to the course so you can refer back to it time and again.
It takes about two hours a week for three weeks to get from start to finish, and covers everything UX designers need to know, including:
• Foundations of UX design
• Defining good usability
• User experience basics
• The importance of user research
• User journeys
• Visual design
• Structuring your site
• Wireframes and interactive prototypes
• Types of user testing
• Interaction design
• The importance of analyzing data
Cost: Free
Certificate: Yes
Time to Complete: Three weeks
Curriculum: Introductory
User Experience: Excellent
Quality of Instruction: Excellent
Pros:
•Unlimited access
•PDF certificate of achievement
•Quizzes to assess your learning
Cons:
•None
6. Introduction to User Experience Design
Offered by Georgia Tech via Coursera
This six-week Georgia Tech course is designed as an introduction to user experience. It walks novices through the cycle of discovery and evaluation along with a set of techniques created to meet a user's needs.
The mantra for this offering is "Design is a systematic and data driven process," which is interesting, because the course itself has been designed with a high regard for the student's user experience. There are five sessions in all.
In the first session, students are introduced to user experience and the basic concepts that will be covered in the course. The remaining modules encompass requiring gathering, designing alternatives, and prototyping.
Students can audit each module of the course at no charge. You won't be graded or get a certificate, but you will have access to all the lessons, modules, and lectures. Students who would like the certification but cannot afford the fee have the option to apply for financial aid.
Cost: Free
Certificate: Yes, with a fee
Time to Complete: 6 weeks
Curriculum: Introductory
User Experience: Excellent
Quality of Instruction: Excellent
Pros:
•Covers core UX skills you can apply in real life
•Highly recommended by previous students
•Taught by Senior Research Scientist Dr. Rosa Arriaga
Cons:
•Fee charged for certificate
7. UX: The Evidence-Based Redesign
Offered by Udemy
This excellent course is jam-packed with information for anyone who wants to improve a website. It focuses on the instructor's tried-and-true method of designing in a practical, lean, and focused way and the same principles can be applied across any live website.
There are six sections in all, and the course takes under three hours to complete, but it's full of tips you can use right out of the gate. It aims to give students everything they need to do a redesign without having to go through weeks of research, including learning:
• What is happening on your website through analytics
• Why your users behave the way they do
• Who your users are so you can better target them
• How to design and test solutions that work
The course is short and Ideal for small businesses who want to improve their website's UX but is also a great introduction or refresher.
Cost: Free
Certificate: No
Time to Complete: 2 hours, thirty-nine minutes
Curriculum: Beginner
User Experience: Good
Quality of Instruction: Good
Pros:
•Highly rated by former students
•Minimal time investment
•Access on your PC, laptop, tablet, or smartphone
Cons:
•Too short
8. User Experience Courses
Offered by Skillshare
Skillshare is an online platform for learning that offers both free and paid options, but one of the things we love about the site is the amount of fast, informative courses you can access at no charge.
When you search the site for free UX courses, you will get a curated list of choices ranging from quick 15-minute videos teaching a quick tip, to a six-hour course on UX design principles.
Some of the more interesting choices include:
• Intro to UX: Conducting Smart User Research
• Digital Product Design: Create a Compelling UX Portfolio
• Getting a Job in the Field of Web Design/UX
• The World according to UX – a bold mindset for aspiring UX Designers
• Making a Paper Prototype for a Mobile App
Whether you choose a quick, on demand video tutorial or a more robust step-by-step class, Skillshare has something for everyone, at every level.
Cost: Free
Certificate: No
Time to Complete: Varies
Curriculum: Introductory to intermediate
User Experience: Good
Quality of Instruction: Good
Pros:
•Taught by industry experts
•Ideal for beefing up your resume with a new skill set
•Many choices
Cons:
• If you opt for a free trial, you have to give your credit card info to complete the class.
9. Become a User Experience Designer
Offered by LinkedIn Learning
LinkedIn has its own learning platform with over 13,000 fascinating courses. If you are already a premium member of the site, you can take any one of them for free. Whether you are looking for a promotion or a new career, chances are you can find exactly what you need.
If you are not a premium member, the site offers a one-month free trial, and if you want to take this free course on how to become a user experience designer, it works out perfectly.
This popular offering is actually 13 courses grouped as one and takes 12 hours altogether. It's presented by six industry experts and designed to teach you everything you need to know if you're considering a career in UX.
The courses include:
• Planning a Career in User Experience
• UX Design: 2 Analyzing User Data
• UX Design: 3 Creating Personas
• UX Foundations: Multidevice Design
• UX Design: 5 Creating Scenarios and Storyboards
• UX Design: 6 Paper Prototyping
• UX Design: 7 Implementation Planning
If you do go with the free trial and you intend to cancel, make sure you do so before the month is up. Once you are finished, you can download a shareable certificate of completion to display on your linked in profile or CV.
Cost: Free Try a free trial for Linkedin Learning.
Certificate: Yes
Time to Complete: 12 hours
Curriculum: Introductory
User Experience: Good
Quality of Instruction: Excellent
Pros:
•Free with a LinkedIn Premium Account
•Divided into 13 short and engaging classes
•Taught by six industry experts
Cons:
•Only free for one month
10. Requirement Definition and Design Framework
Offered by ALISON
ALISON is one of the leading online learning websites offering over 900 free certificate courses in a wide range of subjects. Over 80,000 students have participated in classes on Alison, and while the courses are not accredited, they do tend to follow industry standards.
Requirement Definition and Design Framework is a short (five to six hours) introductory course designed to teach students The Fundamentals Of Modeling, Design Framework And Requirement Definition. It has a solid five-star rating and consists of three modules covering 11 different topics.
At the end, you will take an exam, in which you will need to pass with an 80 percent or better. At that point, you will be eligible for certification, which you can purchase at the Alison store. The certificate is not mandatory, and if you need to prove you have taken the course, you can also access a free verified learners verification report on your dashboard.
Cost: Free
Certificate: Yes, with fee
Time to Complete: Five to six hours
Curriculum: Introductory
User Experience: Good
Quality of Instruction: Good
Pros:
•11 detailed modules plus a course assessment
•Well-known e-learning platform
•Opportunity to learn the basics of user experience
Cons:
•Fee charged for certificate
Frequently Asked Questions About Free UX Design Courses
It's easier than you may think to learn new skills for free. The digital age has brought more opportunities for self-paced education than ever before in history. Courses are available in a wide range of topics, some of them suited for personal growth, such as yoga, French, and Interior design.
Others are geared toward professional growth and include offerings in digital marketing, business, and these ten courses in UX design.
The halls of higher education are no longer reserved for the elite. Everyday people can access courses taught at prominent universities like Harvard, Stanford, and Yale, among others. No matter who you are, where you live, or how much prior education you have, these courses are available to you at the touch of a button.
Free online courses are also called massive open online courses, or MOOCs, and there are plenty of them to go around. Offered through colleges, organizations, and large corporations like Google, Linux, and Microsoft, it seems that MOOCs are here to stay.
What is UX Design?
Donald Norman said:
"No product is an island. A product is more than the product. It is a cohesive, integrated set of experiences."
Think about the most popular products, services, or websites you use every day. What do you love about them, and why? Now consider things you use that you wish were different: "If only the handle of this pan didn't get so hot." "I wish this site didn't take so long to load." "This game is fun, but the captions are hard to read." These are all challenges that UX design aims to resolve.
Do I Need a Degree to Become a UX Designer?
While some employers seem to prefer to hire college graduates, thousands of UX designers work today that do not have a college degree. The most crucial factor in getting a job as a UX designer is to demonstrate the necessary skills. This means that in the absence of a diploma, you will need a combination of training and experience to land a job in the field.
Of course, a degree won't hurt, either. But since UX design is a relatively new discipline, few schools offer programs specifically around user experience. A practical way around this is to study graphic design or computer science.
Free online courses in UX design can help further your learning as well. Even low-cost certificate programs are a good option. And of course, working in a role that will give you some experience in the field is the best way to learn UX head-on.
What Are the Requirements and Prerequisites?
There are no prerequisites to taking free online UX design courses, at least not for the ones on our list of favorites. You won't be asked to provide a transcript or documentation of your abilities, and if there are age restrictions, a parent can sign their child up for a course.
However, you should know your way around a computer and have some general design knowledge if you want the lessons to go smoothly. In some cases, skills you should have before taking a more challenging course will be listed.
UX designers are usually proficient in a range of soft skills like curiosity, creativity, communication, empathy, and teamwork. Applied skills like research, visual communication, information architecture, wireframing, and prototyping will come with time and experience.
Will I Earn College Credits by Taking a Free UX Design Course?
Occasionally, MOOCs can be completed for college credit; however, none of the courses listed in this article have this option.
How Long Do Free Online Courses Take?
Since most of the courses on our list are designed to be taken at your own pace, the completion times vary. The shortest courses on the list can be accessed on Skillshare, and some take under an hour to complete. The most comprehensive course offering takes 117 hours. Most fall somewhere in between and can be wrapped up within a week or two.
Keep in mind, though, that these times are usually flexible. You can complete the courses faster or slower than the suggested completion times and work them around your current schedule for the best fit.
Are Free Online Courses Graded?
Most online courses in UX design are not graded unless you opt for paid components of the course. However, courses on Alison and Future Learn are exceptions. These platforms offer graded final exams and certifications with a passing grade.
Are Free UX Design Courses Worth It?
If you want to break into the field of UX design without a degree, you will need to learn the skills somehow, so free online courses in UX design are definitely worth it. But if you are already in the field, they can offer even more value by helping you brush up on your skills or learn some new ones.
Even if you don't end up using the skills you learn in a free online class, the act of committing yourself to an educational activity and doing something different can be worth it. You don't always need a compelling reason to take a course. Sometimes it's just fun to learn something different.
Related:
● 110 Free Great Online Courses for Java
● 10 Free Great Online Courses for Web Design
● 10 Free Great Online Courses for Web Development
● Free Online Courses for Front End Development
● 10 Great Free Online Courses for Game Development and Game Design
● 10 Great Free Online Courses for Graphic Design 2020
● Free Online Courses for Product Management
● 10 Great Free Online Courses for Project Management