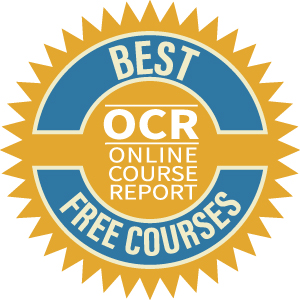 Interior designers are employed to create or remodel domestic or commercial spaces according to their clients' needs. To do this, they need to have a firm grasp on concepts dealing with color, light, space, and balance and be able to incorporate the materials and decor needed for a terrific outcome.
In this review, we will take a look at 7 free interior design courses you can take online. Most of them are brief and serve as introductions to more complex coursework. However, if you are considering delving into this exciting field, these resources are an ideal way to begin.
Featured Program
Disclaimer: Some courses may include an affiliate link. Courses were chosen first based on the methodology with affiliate links only added after the ranking was complete.
In crafting our list of the top online interior design courses, we chose platforms offering the most relevant offerings, and rated them in descending order, with our top choices first. This was done through a methodology we developed to provide our users with free classes offering the most robust features.
Following the review, you will find a list of frequently asked questions about free interior design courses.
Featured Programs
1. Photoshop Launch
Offered by The Design Cure Academy
This one hour and 13 minute course taught by Brian Lee at the Design Cure Academy has been created to help aspiring interior designers learn the basics of photoshop and how to get up and running with it quickly. It can serve as a refresher for those who need to brush up on their skills or as a beginner course for those new to photoshop for interior design.
As an interior designer, you don't need to learn every aspect of photoshop to make it work for you, so the course is crafted to eliminate excess information and help you focus only on the tools you will need to succeed. The free online interior design course is divided into three days of learning and includes:
• Day 1: Learn how to navigate the photoshop interface, create your first document, and navigate your workspace.
• Day 2: Learn how to use all the essential tools you will need and place images accurately inside an interior space.
• Day 3: Learn about texturing and manipulating lighting and focus on the day to day needs of your business.
The course also includes access to a Facebook community, guided exercises, and a Photoshop level one certificate to display on your LinkedIn page or CV.
Cost: Free
Certificate: Yes
Time to Complete: 1.25 hours
Curriculum: Introductory
User Experience: Excellent
Quality of Instruction: Excellent
Pros:
• Learn with an industry expert
• One of the best free online interior design courses with a certificate
• Offered through the New York School of Interior Design
Cons:
• Too short
2. Design a Contemporary Bedroom in Vray, Sketchup and Photoshop
Offered by Udemy
In this three-hour course, students will use Vray, Sketchup, and Photoshop to design a bedroom. It is taught by Manish Pau Simon, a Bangalore-based architect, 3D artist, author, and consultant. The free interior design online course features 2.5 hours of on-demand video, full lifetime access on mobile and TV, 18 downloadable resources, and a certificate of completion. In it, you will learn how to use Sketchup and Vray to quickly and efficiently create bedroom interior scenes and photorealistic renders.
The course is one of the few offered at Udemy at no charge, and upon completion of the three modules, students will earn a free certificate of completion.
Cost: Free
Certificate: Yes
Time to Complete: Three hours
Curriculum: Beginner to Intermediate
User Experience: Excellent
Quality of Instruction: Excellent
Pros:
• Excellent user interface
• Certificate of completion is offered
• Hands-on and easy to follow
Cons:
Too short
3. Designing a Tiny House with Sketchup
Offered by LinkedIn Learning
Did you know that if you have a LinkedIn premium account you can access hundreds of courses for free? If you are not a premium member, you can sign up for a free one month trial and explore all the platform has to offer, including taking this fun five and ½ hour course in designing a tiny house with Sketchup.
The course features nine in-depth modules instructing users on how to build a tiny house step-by-step and includes every detail. You will learn how to design the house itself as well as:
• Model the windows and frames
• Add the bed counters, shower, and cabinets
• Add furniture
• Model the trailer
• Animate the design
LinkedIn classes offer students shareable badges upon course completion which can be added to your website, LinkedIn pages, CV, or resume
Cost: Free Try a free trial for Linkedin Learning.
Certificate: Shareable badge
Time to Complete: Five and ½ hours
Curriculum: Intermediate
User Experience: Excellent
Quality of Instruction: Excellent
Pros:
• Access the course for one month for free
• Get an industry-recognized shareable badge
• Add a specialized niche to your portfolio
Cons:
• You must remember to cancel the trial if you don't want to be charged
4. Sketchup Launch
Offered by The Design Cure Academy
This second free course by the Design Cure Academy serves as an ideal introduction for interior designers wishing to learn the basics of Sketchup. This 3D software is user friendly and can help designers create detailed presentations quickly. It's short, lasting only about an hour and a half in all, but it will give students a basic understanding of how to use SketchUp and includes:
• How to install Sketchup
• Understanding 3D workflow and basic modeling
• Setting up a room, modeling and placing furniture, and basic texturing
• Modeling interiors from a floor plan
• Modifying walls
• Adding flooring, doors, windows, and ceilings
• Create and use functions
• Finalizing a project with 3D rendering and design
Cost: Free
Certificate: No
Time to Complete: 1.5 hours
Curriculum: Introductory
User Experience: Excellent
Quality of Instruction: Excellent
Pros:
• Dedicated Facebook group
• Hands-on exercises
• Start with the free version of Sketchup so there are no fees involved
Cons:
• Certificate not offered
Featured Programs
5. Revit Launch
Offered by the Design Cure Academy
Revit is the most robust 3D rendering and drafting tool in the architecture and interior design industry, and this third free course offered by the Design Cure Academy will take you through the basics step-by-step. It takes about 1.5 hours to complete this free online course in interior design, and the instructors recommend you finish it within three days to get the most out of the course.
The exercises and cheat sheets are all bundled into one downloadable file you can refer to time and again, and there is a dedicated Facebook group to get help and advice from your peers and instructors. The course is an introduction and will get you set up to move on to more advanced lessons if you choose. In it, you will:
• Learn how the Revit interface works and how to navigate it
• Look at dimensions and annotations, drafting tools, and adding components.
• Learn how to draw a floor plan, including doors and windows
• Learn final design and rendering techniques
Cost: Free
Certificate: No
Time to Complete: 1.5 hours
Curriculum: Introductory
User Experience: Excellent
Quality of Instruction: Excellent
Pros:
• A thorough introduction to Revit
• Facebook group for interacting with other students
• Utilize a free trial of Revit to see if it's something you want to pursue
Cons:
• No certificate offered
6. Interior Design Basics
Offered by Howcast
Howcast offers several online video tutorials taught by professional interior designer Blanche Garcia. The platform is less of a course and more of a curated collection of engaging lessons that will get your creative juices flowing. There are 53 videos in all covering topics like:
• Green and Sustainable Home Decorating
• How to Arrange Furniture in a Studio Apartment
• How to Decorate with Fabric Panels
• Feng Shui
• Room Decorating Ideas for Couples
• Vintage Decor
• The Best Interior Paint Color Combinations
Cost: Free
Certificate: No
Time to Complete: Varies
Curriculum: Introductory
User Experience: Good
Quality of Instruction: Good
Pros:
• Great resource for learning basic techniques
• Short videos with transcripts you can print out for reference
• Good for discovering new ideas
Cons:
• Not interactive
7. Free Home Decor Class
Offered by Decorating Studio
Taught by designer Susan Welch Heeney, this six lesson course is a no-frills offering that covers the basics of interior design for the home. Ironically, the interface is not going to win any awards for esthetics, however, the read-only lessons are well thought out and provide thorough and in-depth information on the fundamentals all interior designers should know. At the end of each section, there are suggested lessons for putting the instructions to practical use. The lessons include:
• Color
• Decorating Styles & Living Rooms
• Entry, Foyer & Guest Bath Decorating
• Kitchen & Dining Room Decor
• Master Bedroom Suites & Children's Rooms
• Guest Rooms, Home Offices, Special Needs & Outdoor Decor
Cost: Free
Certificate: No
Time to Complete: Varies
Curriculum: Introductory
User Experience: Fair
Quality of Instruction: Good
Pros:
• Taught by a member of the American Society of Interior Designers
• Provides basic information all interior designers need
• No signups or commitments
Cons:
• Poor user experience
Frequently Asked Questions About Free Interior Design Courses
In the past several years, more students than ever before can access educational opportunities, thanks to online learning platforms. While most online courses are fee-based, more massive open online courses (MOOC's) have sprung up offering students the chance to learn at no cost. While many of these courses are brief and introductory, they provide individuals the ability to dive further into a field they might be interested in. They can help students make choices about avenues of learning or career objectives they want to pursue next.
If you are beginning to explore how to learn interior design, this part of our review will attempt to answer some of your most pressing questions.
Who Should Take Free Interior Design Courses?
Anyone with an interest in designing functional and beautiful spaces can take free courses in interior design. For those with a creative eye who are willing to put in some time, practice, and dedication, these courses can pay off in the long run. There are many types of students interested in interior design classes
● Current interior designers or decorators who want to brush up on their skills
● Architects
● Hobbyists
● Anyone with an interest in 3D modeling or rendering
● Remodeling contractors
Learning some new interior design skills can help increase your marketability, add some skills to your resume, or even get a promotion or new job. If you are in business for yourself, taking classes to improve your skills will help you acquire your ideal client.
What Are the Skills Needed to be an Interior Designer?
If you want to study interior design, you should be able to think analytically and creatively. You will be someone who can not only picture a completed project in your mind's eye but can convey this idea to your potential client as well. You should have some artistic and technical interest, as you will be using a variety of creative technical tools. Attention to detail is a must in this field.
Interior designers often work alone, so you should be comfortable working autonomously. However, if you are going into business for yourself, you also will need to be outgoing enough to speak with people across a broad range of professions and personalities.
Additionally, independent contractors should be able to handle the financial, operational, and marketing side of their businesses in order to be successful.
What are the Prerequisites for Taking Free Courses?
There are typically no restrictions on taking a free Interior design course, but you should at least have your own computer and understand how to use it. For many of the listed courses, you will be learning specific software, so you will need to have this downloaded. In most cases, you can obtain a free copy to work with before you make a final decision on whether you want to pursue interior design further. Our listed classes range from introductory to intermediate, so in some instances you will want some basic software skills already.
Will I Earn College Credits by Taking an Online Interior Design Class?
Free online interior design classes will not award you with college credits and there are no free online accredited courses on our list. However, should you choose to move on to paid coursework, there are many opportunities for earning credit.
How Long Do Free Online Courses Take?
All of the free interior design courses on our list can be taken at your own pace and completed in a short amount of time. Completion time varies from person to person and you can take the classes at your own pace. Your own schedule and level of motivation will determine the duration of your course.
Are Free Online Courses Graded?
Although rare, there may occasionally be graded projects or exams when you take a free course online. However, this is the exception rather than the rule. Most graded components of a class usually incur a fee of some sort.
Are There Specific Start Times and Deadlines for Free Online Classes?
Online learning is one of the most flexible ways of getting an education, and this is one reason for its increasing popularity. Students are busy with home lives, jobs, and other responsibilities. With most free online courses there are no deadlines, so you can set your own schedule and access the materials whenever and wherever you want.
The Course I Want to Take Says It's Free. Why Does It Look Like There Is a Fee Involved?
In some cases, graded exams or completion certificates may be hidden behind a free trial or membership. These paywalls can be cumbersome, but in all the cases on our list, there is a workaround. Coursework itself can be completed at no charge. If the class you want to take has a paywall, you will need to remember to cancel your free trial before the deadline to avoid being charged.
Are Free Online Interior Design Courses Worth It?
While you are not going to get a complete education in design by taking the courses on our list, they are all advantageous in that you will get the opportunity to learn some new skills. The beauty of taking some free courses is that they introduce you to the field and may help you as you chart a course for your future. At the very least, a free interior design course will imbue you with some fun and practical knowledge you can take with you when it comes time to design your own spaces.
OCR Staff
Update March 2020
Related: